BrainStem - Stem Cell Center of Excellence in Neurology
Aug 5, 2019
First PhD supported by BrainStem is completed
---
Justyna Okarmus presented the results of her research within BrainStem on July 5, 2019 at SDU in Odense.
Category: News
Posted by: lena
The first PhD that was supported by BrainStem has been completed! Justyna Okarmus defended her PhD titled 'Molecular and functional analysis of human dopaminergic neurons derived from induced pluripotent stem cells with familial Parkinson's disease: Focus on PARK2 mutation using isogenic cells' on July 5, 2019 in Odense, Denmark.
Congratulations Justyna!
Main Supervisor:
Morten Meyer, Associate Professor, PhD, Department of Neurobiology Research, Institute of Molecular Medicine, University of Southern Denmark
Co-supervisors:
Poul Hyttel, Professor, PhD, DVSc, Department of Veterinary Clinical and Animal Sciences, University of Copenhagen
Karina Fog, Director Proteinopathy, PhD, DVSc, Neuroscience, H. Lundbeck A/S, Valby, Denmark
Chairman:
Martin Wirenfeldt Nielsen, Clinical Associate Professor, PhD, Department of Pathology, Clinical Institute, Odense University Hospital
Opponents:
Agnete Kirkeby, Associate Professor, PhD, Danish Stem Cell Center (DanStem), Faculty of Health and Medical Sciences, University of Copenhagen; Wallenberg Neuroscience Center, Lund University
Mark Denham, Associate Professor, PhD, DANDRITE, Department of Biomedicine, Aarhus University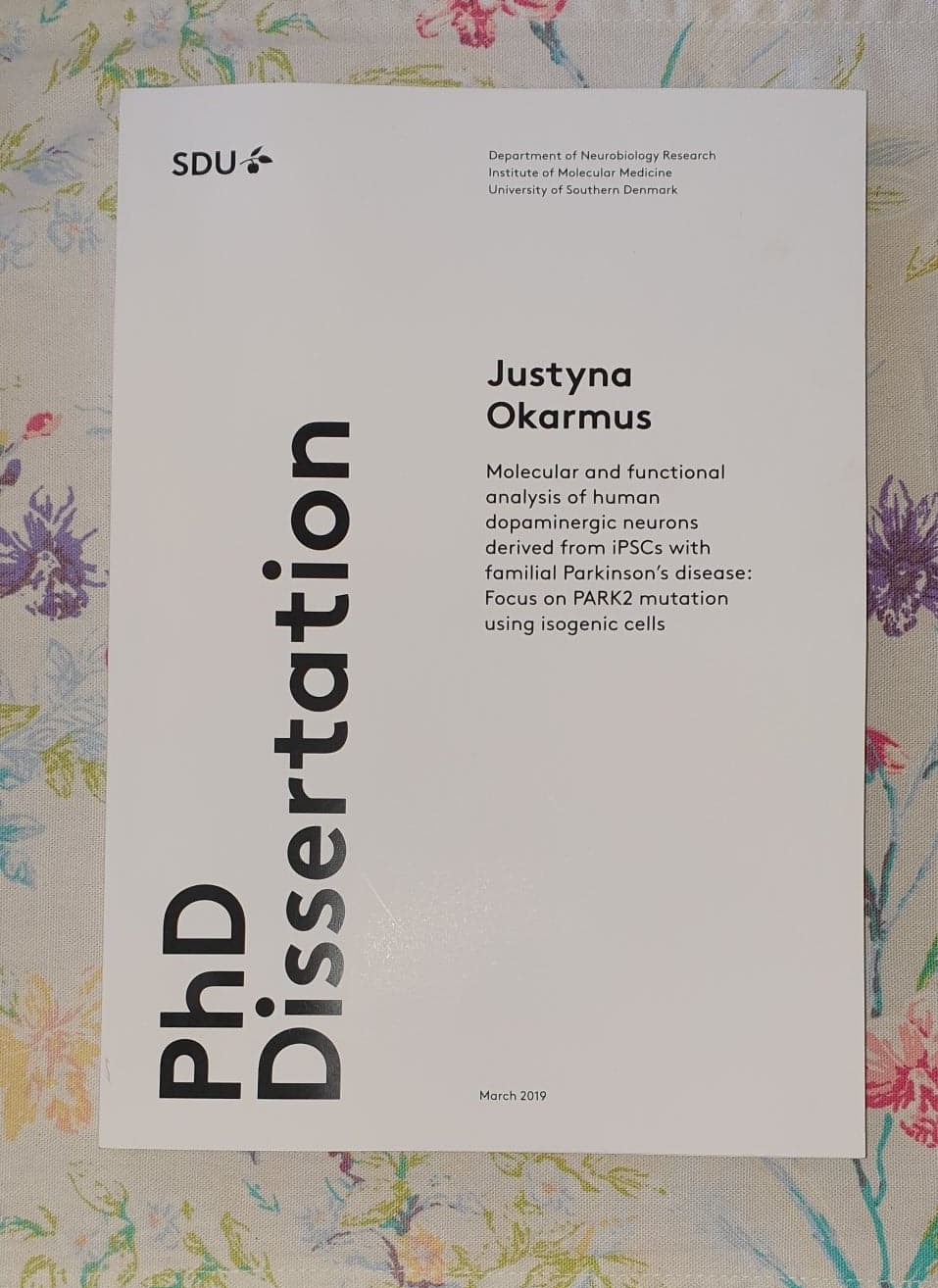 Abstract:
The PhD project aimed to characterize cellular and molecular mechanisms underlying the development of PARK2-mediated familial PD using such isogenic human iPSC-derived neurons. Manuscript I aimed to characterize the ultrastructure of differentiated neurons. The study revealed perturbed mitochondrial morphology and altered cytoskeletal organization in PARK2 knockout (KO) neurons compared to controls. These neurons displayed swollen and accumulated mitochondria without well-organized cristae. Furthermore, the presence of fragmented microtubules with the disrupted organization characterized the parkin-deficient neurons. In conclusion, the study showed that a PARK2 frameshift mutation can cause ultrastructural phenotypic changes in human iPSC-derived neurons in vitro. Manuscript II aimed to characterize the effect of parkin dysfunction on metabolomic parameters. The metabolomic profile of the PARK2 KO neurons differed substantially from that of healthy controls. It was characterized by mitochondrial and energy perturbations combined with increased oxidative stress and a decreased anti-oxidative response. Taken together, the data revealed a unique metabolomic profile for neurons with parkin dysfunction, demonstrating PD-relevant cellular defects. Manuscript III aimed to investigate mitophagy in PARK2 mutated neurons. Initially, impaired clearance of damaged mitochondria in PARK2 KO neurons was detected. Subsequently, it was shown that USP30 inhibition could increase protein ubiquitination and accelerate mitophagy in control neurons. Interestingly, the study also disclosed the potential of USP30 inhibitors to promote mitophagy in the PARK2 KO neurons. Overall, the data pointed towards a beneficial role of USP30 inhibition affecting the turnover of damaged mitochondria. Manuscript IV aimed to investigate the effect of PARK2 KO on lysosomal morphology and function. The study revealed perturbations of lysosomal morphology and content. Impaired function of lysosomes was detected, suggesting impairment of the autophagy-lysosomal pathway in parkin-deficient neurons. Collectively, the data provided evidence for the existence of a significant link between parkin deficiency and lysosomal function.
In conclusion, our study provides new insight into the pathogenesis of PARK2-mediated PD and demonstrates the potential of the iPSC technology for elucidating the role of disease-causing mutations.